〜 Results from the joint studies between The University of Tokyo, Hosoo, and ZOZO NEXT have been published on this website 〜
ZOZO NEXT, Inc. (Headquarters: Chiba City, Chiba Prefecture, Representative Director: KANAYAMA Yuki, Hereinafter referred to as the "ZOZO NEXT") opened a virtual exhibition through a website which aims to reproduce "Ambient Weaving ── Environment and Textiles" as results of Project Foil (*1), a joint research project with The University of Tokyo's Graduate School of Interdisciplinary Information Studies (Headquarters: Bunkyo-ku, Tokyo, President: YAMAUCHI Yuhei, Hereinafter referred to as the "The University of Tokyo"), Yasuaki Kakehi Laboratory (Principal Indicator: Associate Professor KAKEHI Yasuaki), and Hosoo Co.,Ltd. (Head office: Kyoto City, Kyoto, President and CEO: HOSOO Masataka, Hereinafter referred to as the "Hosoo").
Background to the Development of Virtual Exhibition Site
This joint research integrates traditional crafts with advanced materials and interactive technologies to research the development of new textiles that combine functionality and beauty. From April to September 2021, we held "Ambient Weaving ── Environment and Textiles" (*2) to exhibit our research results in Kyoto and HOSOO GALLERY. However, due to COVID-19 restrictions, there have been difficulties in allowing large numbers to visit physically. This has led to the publication of a virtual version of the exhibition space to ensure more people can enjoy and experience our work.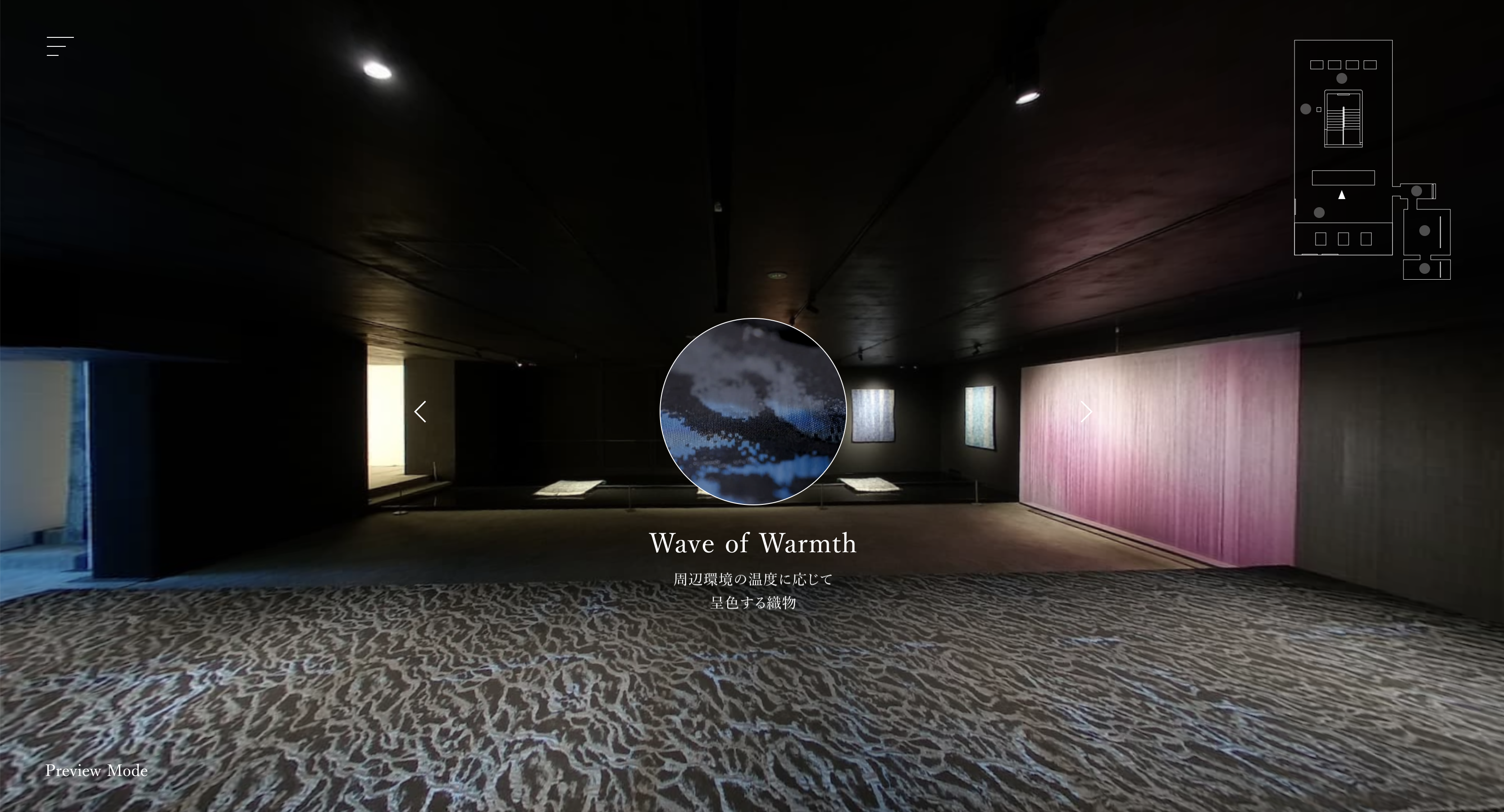 Overview of Virtual Exhibition Site
This virtual exhibition shows five prototypes combining traditional Nishijin weaving techniques with advanced technology. A flexible and luminescent textile woven with OLED, and a textile that changes color according to temperature will be displayed.
The exhibition title "Ambient Weaving" refers to "textiles that incorporate environmental data" or "textiles that interact with the environment." For this reason, we emphasize the relationship between the surrounding space and the exhibited works at the venue. The space was carefully designed by conducting visualization of environmental information through light conditions, temperature management, and sensors to accentuate the impact on the textiles and thus, its beauty. The atmosphere of the physical exhibition space has been recreated on this virtual exhibition site by photos taken on a 360-degree camera. Through the screen, we hope you can enjoy the experience of walking inside the venue to explore each and every prototype.
Future Outlook
The University of Tokyo and Hosoo are continuing the three-party joint research with us, to pursue further development. In addition, we are currently recruiting partner companies to co-create new services by utilizing technologies developed through this joint research and works currently exhibited at the virtual exhibition site. We are looking to integrate the design and technology possessed by the three companies with the knowledge and technology possessed by potential partner companies to pursue new expressions that combine textile functions and designs.

Virtual Exhibition Site URL
Exhibition Concept
"Ambient Weaving" refers to "textiles that expresses or incorporates environmental data" Textile history is as ambitious as human history.
Looking back, we see that textiles are nothing other than those created through constant human dialogue with the environment. In Japan, there has been a great deal of activity in relation with natural motifs such as "the Beauties of Nature" in textiles, in addition to using natural yarns made from raw materials in the natural environment, such as fibers from plants and animals, and also dyeing textiles with plants.

In our modern age, unspoiled nature is no longer familiar to us, and living in an artificially-formed environment has become the standard for most.
How can we form new relationships between the environment and textiles in this modern age, through the notion of "Anthropocene" when the concept of "nature" often becomes controversial? This exhibition, "Ambient Weaving ── Environment and Textiles" not only questions these issues but aims to expand new expressions and experiences by integrating cutting-edge technologies with traditional techniques that combine textile functions with designs, and presents the ideal state of human, environment and textiles in modern times.
To Our Stakeholders
Please contact us here regarding this matter.